How does a Performance Planner help your Business?
Google ads keep on bringing new changes and updates that affect every business differently. If you wish to understand its impact on your firm, Google ads performance planner will help you.
If you are unaware as to:
• What is a performance planner?
• Why should your business use a performance planner?
• How can a performance planner serve your business?
Compny.co presents you with a guide with everything you would want to know about the performance planner and its significance for your business.
What is Google Ads, Performance planner?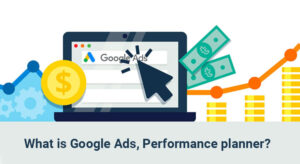 The Google Ads performance planner allows you to create plans, budgets, and forecasts for your advertisements and see how changes and adjustments will impact the key metrics. It enables you to budget wisely and diligently to maximize the effectiveness of the campaign. The tool helps in:
• Creating forecasts for your campaigns
• Notice the impact of adjustments made in the campaign settings
• Explore the upcoming opportunities
• Handle your budgets effectively across different accounts and campaigns
Why should your business use a performance planner? 
The performance planner is an excellent tool to make the most out of your Google ad campaigns. It has numerous benefits for your business. Some of them are listed below:
      • Helps predict the performance of the campaign:
Whenever a business runs campaign ads on Google, they constantly worry about the outcome. It is a significant investment for which they look for positive results. Google ads performance planner helps the firms forecast the negative or positive impact of the changes in their pay-per-click campaigns.
Even before implementing a plan, you can predict the performance of the campaign. You can make adjustments in your campaign settings and opt for those that yield the most benefits. Also, you can see their impact on crucial metrics like clicks, conversion, conversion value, etc.
When you are sure of the results you can get with a particular campaign, your confidence gets boosted. You can focus on enhancing your return on investment without worrying about wastage of time and money. It gives you a competitive edge as you are in a position to make resolute decisions.
  • Uncovers, reveals, or Brings out the uncertainty revolving around:
A business has to make various plans in its lifetime to survive in the market. While some yield excellent results, others harm the growth of the firm. The uncertainty and guesswork revolving around the implementation of a plan is a pain point for many companies.
That is why a performance planner is a must-have tool for your business. It takes all the guesswork out of a particular campaign and shows you the results you are most likely to see with its implementation. It helps you make wise decisions and grow without spending your resources unnecessarily.
The risk associated with undertaking a decision gets removed, and you get a better insight into your idea's depth. You can check the worthiness of the campaign and whether the changes will make it any better. The data will reflect how it will perform once implemented.
   • It gives you "Insights" is more ideal here into the optimal budget for your campaigns:
No business would want to spend on a project which is sure to fail. Also, it is pretty confusing to firms whether adding more into the budget will yield better results or not. Therefore, when you get a tool that eliminates every ounce of doubt in your planning, you get it.
Google ads performance planner is an incredible tool to plan the most optimal budget for your campaigns. By adjusting the campaign settings, you can see the worth of every penny you spend.
Sometimes companies increase their budget, thinking that their ROI will also enhance. However, it may not be accurate for every campaign. The performance planner measures the worthiness of your budget and tells you if extra spending will help you in any way.
You can plan your budget wisely and spend appropriately for a smooth growth.
How can a performance planner serve your business?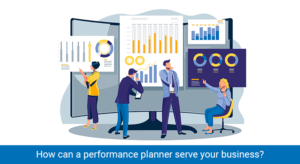 Till now, we have covered the introduction and benefits of Google ads performance planner for the consider using another term like businesses or companies. Firm may mean a different thing. If that sparked your interest, we now present you with a guide to how it works.
As we know, accurate forecasting requires tireless research and information that helps us mould our predictions. Similarly, Google goes through the billion search queries it receives every day to simulate relevant ad auctions over the last 7-10 days. It includes different variables, including seasonality, competitor activity, and landing page, to provide the impact of changes in your campaign on its performance.
After it runs its simulations and collects the required data, Google checks the accuracy of its performance planner. They examine the performance of the current running campaigns against their actual eventual performance. They fine-tune the forecasts using machine learning.
It predicts conversions based on the conversion types in the "Conversion" column of your performance report by Google Ads. Also, if you haven't received many modifications but have enough clicks, you can create a forecast by manually entering the data.
Requirements to Meet to get Access to Performance Planner: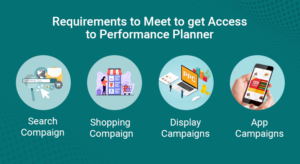 To use a performance planner, you should fulfill some requirements. They vary based on the type of campaign you are running. The eligible Pay-per-click campaigns include:
• Search campaigns: 
A search campaign must-
Utilize manual Cost per Click (CPC), enhanced CPC, max clicks, max conversions, target return on ad spend(ROAS), target cost-per-action, and target impression share bidding strategies.
Must be running for a minimum of 72 hours
Must have received a minimum of three clicks in the last seven days
Conversion focused campaign must get at least one modification in the previous seven days.
 • Shopping campaigns:
A shopping campaign must follow the following steps to be eligible:
Receive a minimum of one hundred impressions in the last seven days
Receive a minimum of ten conversions or/and conversion value in the previous ten days
Should be active every day with a minimum spend of ten dollars or more in the last ten days
For target ROAS standard shopping campaigns- no limit in the budget in the previous ten days
• Display campaigns:
These campaigns can become eligible by considering the following points:
No change in the bid strategies in the last ten days
Running for at least seven days or more
Have a minimum of five conversions or 20 clicks (for conversion or maximum click focused campaign, respectively) and more than ten dollars in cost in the last seven days
No constraint in the budget recently.
• App campaigns:
They must follow:
Running for ten days or more
No change in bid strategies in the last ten days
Receive a minimum of ten conversions in the previous ten days
No constraint in budgeting in the recent times
Using app install ads with target cost-per-install or target cost-per-action bidding strategies
The ineligible campaigns are those:
Deleted
Changed to become eligible but have been running for less than ten days with the new settings
In a draft or experiment, state
How to create a new plan in Google ads performance planner?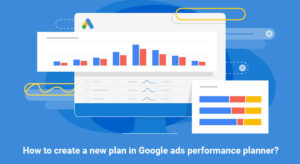 If you wish to use the performance planner, create a plan to run your tests and simulate it. You can follow these steps:
Log into your Google account
Go to the tools icon and select it
Check the performance planner option
Select: Create a plan
Click on the 'Continue' button
Choose the ad campaign you wish to include
Select 'Next'
Enter the 'data range' you want to stay in
Record the metrics you want to see
Go to 'Continue'.
Go to the 'forecast page.'
See the overview of your plan
These steps will help you analyze the performance of your ads.
Performance planner and keyword performance: The relation
You can predict the performance of your keywords and help you add the ones with value. It helps you assess the current keyword optimization and future keywords that will impact positively. The 'Things to try' section allows you to run tests on your keywords.
Managing the performance planner effectively: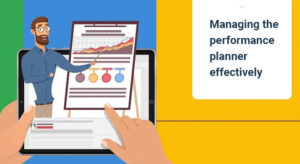 The performance planner is an outstanding and must-have tool for every business. However, not everyone has the proficiency in utilizing it effectively.
Our experts at Compny.co have high qualifications and skills to run it for you. We have decade-long experience in the industry and are up-to-date with the ins and outs of running PPC campaigns successfully. Our previous client record shows how our digital marketing agency has been improving the results of PPC campaigns for the clients.
SEO & PPC are integral parts. Unless you have a good hand at SEO, you can't expect PPC to work exceptionally well. So, performing an SEO Audit before planning a PPC Campaign is advisable. Don't worry about SEO Audit Cost. It is usually minimal.
You can contact us any time and get in touch with the experts of the SEO Agency.